From the series: Heroes of the Solomons
If ever there was a larger-than-life, comic book-worthy action hero, it was US Marine Corps fighter ace, 'Pappy' Boyington, writes Roderick Eime
Boyington was born in Idaho on 4 December 1912 and took his first flight at the tender age of six. Not with some rogue barnstormer, mind you, but with Clyde Pangborn, a man who would later perform numerous daring feats including a trans-Pacific flight in 1931.
Clearly impressed with this experience and naturally drawn to military service, Boyington was an aviation cadet with the Marine Corps Reserve at the age of 23. By 28 he was a first lieutenant instructing at Pensacola, Florida.
A noted wrestler at college, he soon became known as a hard-drinking but likeable roughneck always sailing close to the edge of trouble. He had a certain charm, especially with the ladies, and a knack for upsetting his superior officers.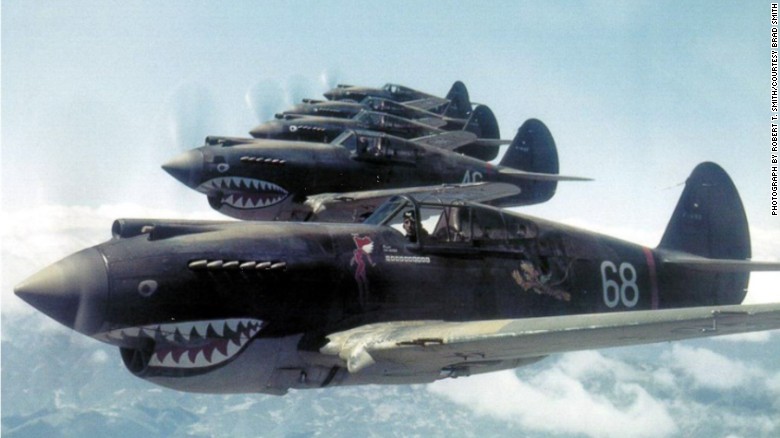 Looking for an escape as much as an opportunity, Boyington signed on with the famous volunteer air force, the 'Flying Tigers', and was soon in the air flying missions in P-40s over Burma under the command of "Colonel" Claire Lee Chennault. Many will remember John Wayne playing Capt. Jim Gordon in the famous, Oscar-nominated 1942 movie about the covert American operation. But Boyington, despite a (disputed) tally of six Japanese kills, was up to his usual antics and fell foul of Chennault who threw him out of the Flying Tigers. The two would never reconcile.
Even with such a chequered record, the US Marine Corps needed combat-ready fighter pilots and by early 1943, Boyington was on Guadalcanal as Executive Officer (XO) of Marine Fighter Squadron 122. It wasn't until September that Boyington put together a team of hand-picked, unassigned pilots and reformed Marine Fighter Squadron 214. The first suggested name of 'Boyington's Bastards' was dismissed by the USMC's PR and instead became known as 'The Black Sheep Squadron'.
Astride the potent F4U Corsairs with their new black bar insignia and pre-ordained reputation, VMF-214 set about tearing up the Japanese invaders, which they did with great aplomb. In less than three months, the renegade unit destroyed or damaged over 200 Japanese planes, half of them in air-to-air combat, as well as sinking ships and bombing shore installations. A Presidential Unit Citation was quickly bestowed on them for extraordinary heroism in battle and they became a minor sensation, grabbing headlines back home in the US. They even bet major league baseball players they could down a Zero for every cap they were sent.
After this first triumphant tour of duty in which Boyington had amassed over a dozen kills, the 26 pilots left their base at Munda and headed for Sydney and the once famous Australia Hotel for a period of serious R&R. The ornate and prestigious hotel opened in 1891 and once stood where the massive MLC Centre now stands in Martin Place.
Doubtlessly hung over, they returned to the Solomons for a second tour but just five days before it too was over, Boyington was ambushed by overwhelming numbers of Japanese fighters near Rabaul and shot down. He recalls this moment in his autobiography, 'Baa Baa Black Sheep'.
"I threw everything in the cockpit all the way forward - this means full speed ahead - and nosed my plane over to pick up extra speed until I was forced by water to level off. I had gone practically a half a mile at a speed of about four hundred knots when all of a sudden my main gas tank went up in flames in front of my very eyes. The sensation was much the same as opening the door of a furnace and sticking one's head into the thing."
With his aircraft hopelessly damaged and he himself wounded by the explosion, Boyington baled out. Despite efforts by his men to locate him, he was plucked from the sea by a Japanese submarine and packed off as a POW through a series of camps, ending up in Yokohama at war's end.
'Pappy' Boyington was repatriated after the war and received the Medal of Honor and the Navy Cross in his new rank as a colonel, but it wasn't long until he was creating mayhem again, bouncing from job to job and drinking too much. Also a heavy smoker, his run of good fortune expired on January 11, 1988. Gregory Boyington, fighter ace and flawed American hero was dead at the age of 75.
His autobiography, written in 1958, attracted the attention of NBC television producers and a series of the same name was aired between 1976 and 1978 with Boyington played by co-director Robert Conrad. The series was set on a fictional island called Vella la Cava, which obviously referred to their one time base at Vella Lavella (Barakoma) where traces of the airfield can still be seen.
Apart from Barakoma airfield on Vella Lavella, VMF-214 under Boyington was also based at Banika Island in the Russell Islands Group, Henderson and Munda before moving to their final location on Bougainville.
====
For visits and WWII tours of Munda, contact Agnes Lodge
Agnes Lodge Ltd
www.agneslodge.com.sb
Munda
Solomon Islands
Phone: (677) 62133
Fax: (677) 62190
E-mail: mundamagic@agneslodge.com.sb
The story was originally published in Solomons Airlines Magazine
https://issuu.com/rodeime/docs/36-47_solomons_issue_67